A Queer Self-Taught Artist Painted The Desires He Could Not Express
By 
Throughout his 98-year-long life, self-taught artist Jon Serl played many roles.
Perhaps this stemmed from his experience growing up in a family of vaudevillian theater performers, traversing the early 20th-century landscape in a covered wagon, performing at carnival after carnival after carnival. Serl himself often performed in drag at his father's request, dressed up as a woman under the pseudonym Slats.
"It was a very cruel life," Serl's dealer and close friend Randall Morris said in a phone conversation. "His father starved him and made him vomit so he'd keep a woman's figure."
Theatrics constituted just one of Serl's dynamic phases, and Slats just one of his alter-egos. There was also the voice-over artist phase, under the name Ned Palmer, during which Serl dubbed for silent movie stars whose voices wouldn't cut it for "talkies." During the Great Depression, while working as a seasonal agricultural laborer, Ned became Jerry. By the time he reached 40, Serl had a handful of odd jobs and alternate personas under his belt, all before he'd even picked up a paintbrush.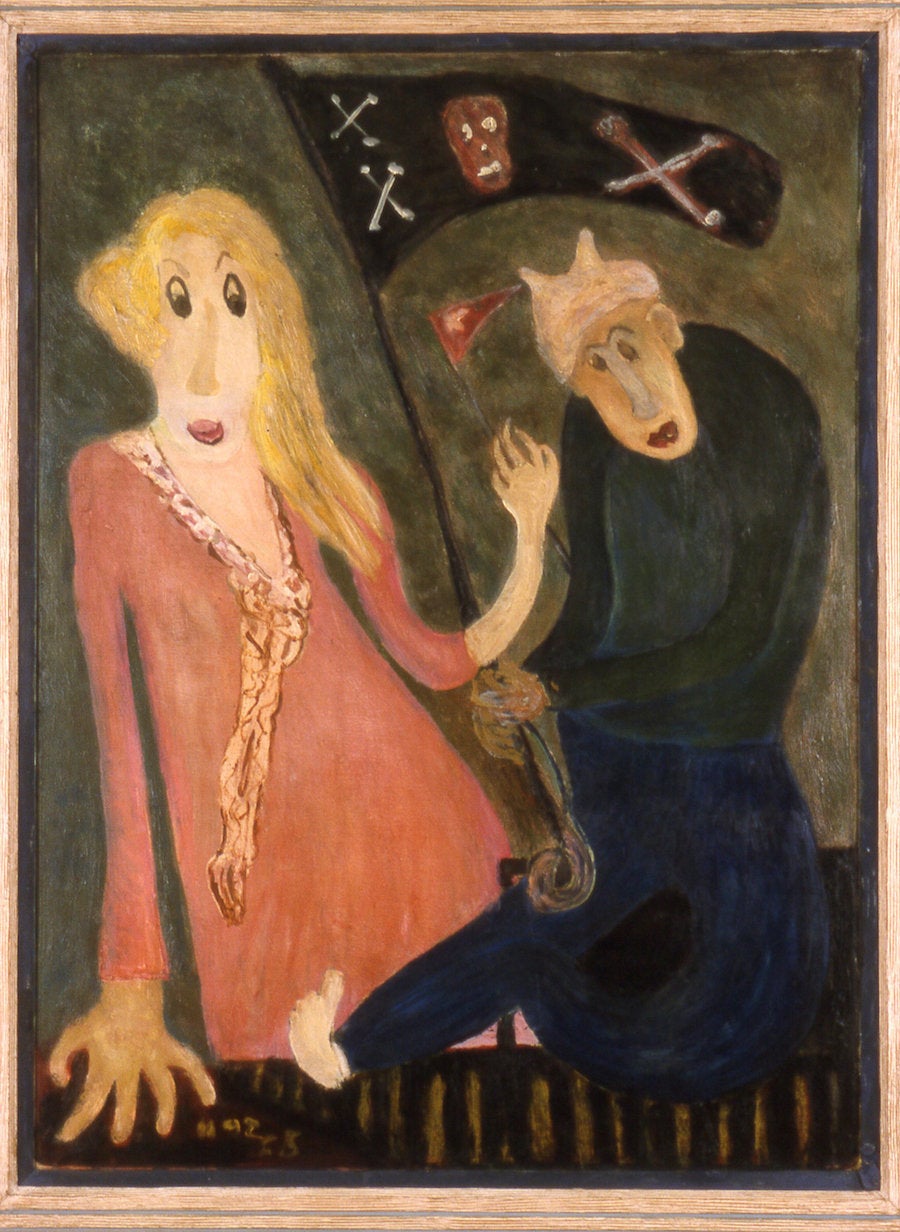 Finally, during World War II, Serl became a painter, and this was no short-term phase. He began painting after moving to San Juan Capistrano, a California desert, into an adobe home in relative isolation. As a kid, Serl's family was poor, and his San Juan Capistrano circumstances were no exception. He first picked up a paint brush after wanting to decorate his new place and realizing even the cheapest flea market option was way out of budget. "They wanted $50 for it," Serl said. "I didn't have 50 cents, so I painted my own."
Over the next 40 years, Serl filled his empty walls and then some. When Morris first visited the artist's home years later, when Serl was in his 80s, he found the place teeming with hundreds of original artworks, stacked across the place from floor to ceiling. Overgrown grass, tangled trees and roaming chickens added to the sense of wildness. On the porch hung a sign that read "CLEAN ENOUGH TO BE HEALTHY, DIRTY ENOUGH TO BE HAPPY." Morris described him as a real "desert rat."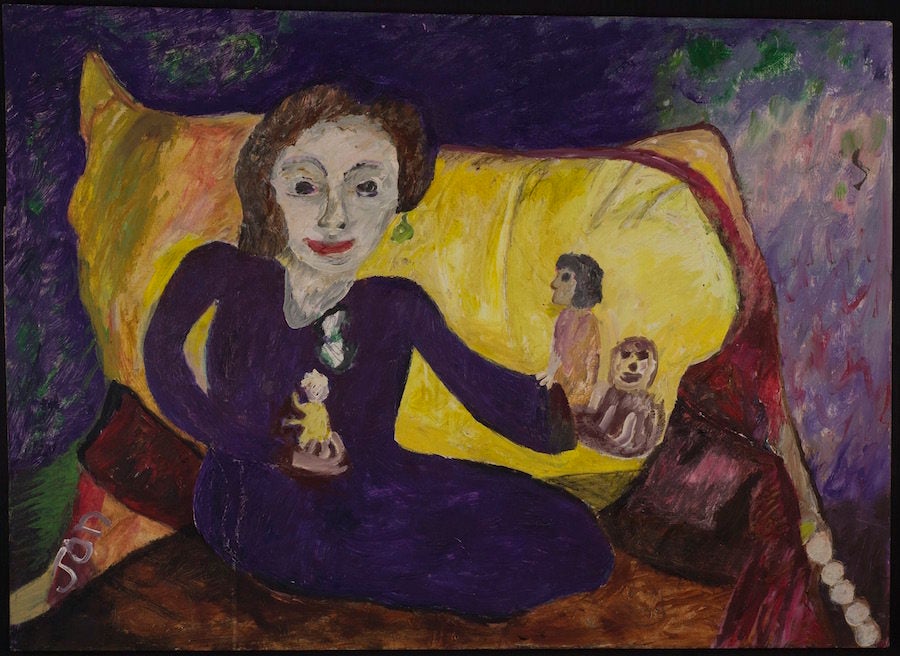 But it was the work itself that captivated Morris' attention. A longtime collector and dealer of self-taught and outsider artwork, Morris is well versed in the often abstruse genre, which can be hard to analyze given its lack of contextual clues and historical precedent. And yet, from the moment he saw Serl's art, Morris was almost possessed. "His work excited me because it was so much about paint," Morris said. "His colors just sort of blew me away."
Serl painted with oils on found materials ― cardboard, Masonite, plywood, old paintings from flea markets ― whatever he could get his hands on. His paintings often resemble fantastical stages, vaudevillian dioramas in which clown-faced characters with gaping eyes and runny physiques participate in the theater that is their lives. In "Whimsey," a woman in a sparkling green dress and bright red stockings dances with silly smoothness, as if her whole body is made from molten caramel.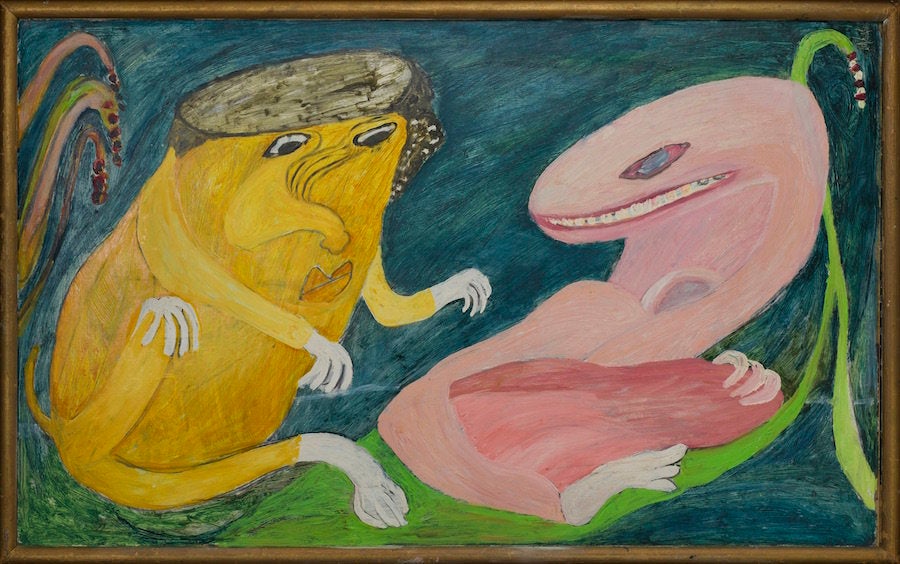 Others are more surreal. The undated "Pornography," for example, stars a giant, yellow anthropomorphized potato and a pink, reptilian plant engaged in some kind of otherworldly flirtation. The painting lands somewhere between the carnivalesque worlds of James Ensor and the cartoonish meandering of Philip Guston, although Serl himself had little interest in the art world or its formidable players. "He knew nothing about it," Morris said. The only thing Serl was concerned with was, in Morris' words, "this living continual journal of his life ― in paint."
And yet, Serl's work was about more than just theatrical fantasy. According to Morris, Serl covertly identified as gay, and his paintings served as an outlet for the desires he couldn't otherwise express. "What makes Serl so important is that his paintings were really hidden codes for the LGBT population of America during the war," Morris said. "It was a time in this country when gay men and women married each other so they could pass as straight, but they lived in communities where they could carry on an LGBT lifestyle in secret."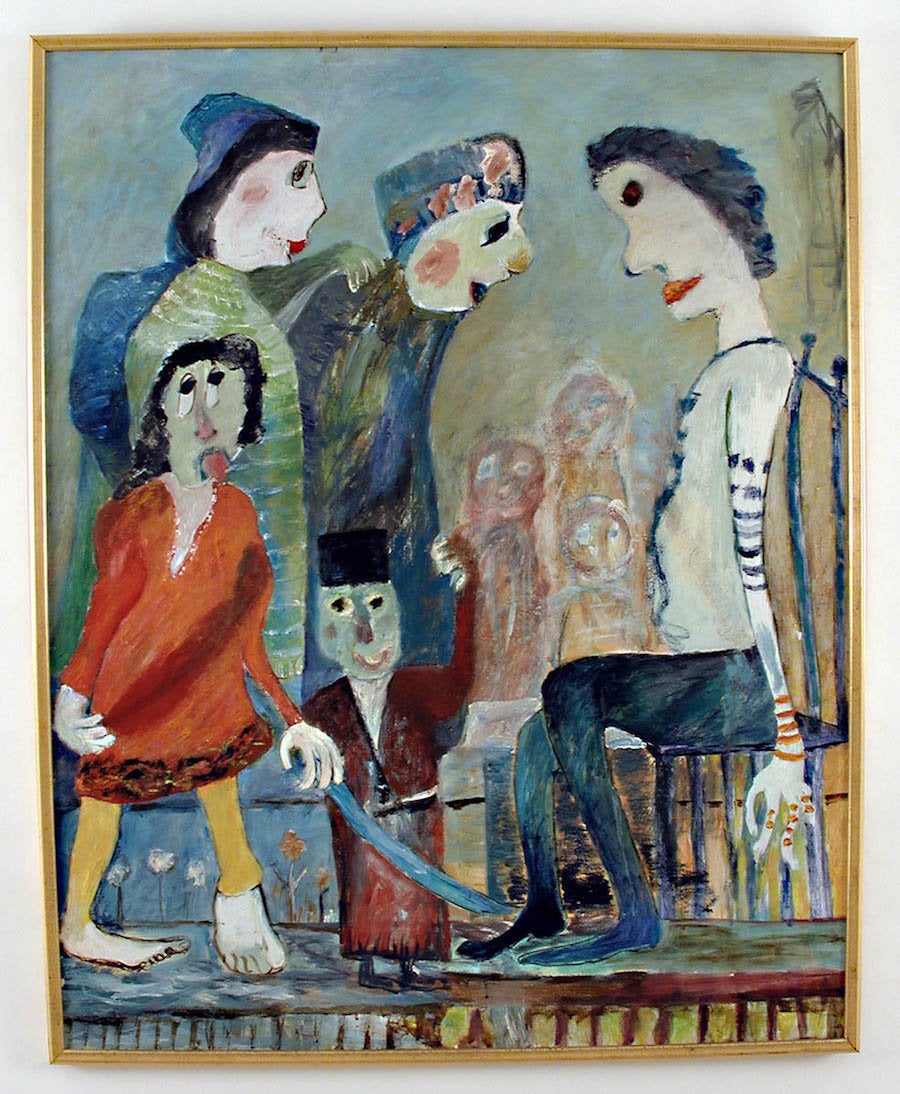 Serl was married "three or four times, mostly out of convenience," Morris said. Before World War II Serl spent time with these partners in a community in Texas where, ostensibly, LGBT individuals could express themselves without fear or judgment. "He was nostalgic for the period. He felt life changed permanently after World War II. He felt [his sexuality] had to be a lot more hidden."
According to Morris, many of the women that appear in Serl's canvases are actually men in drag ― not too bold a claim, considering Serl's own history with drag. Although close friends of Serl's were familiar with his complex relationship to identity and sexuality, the fact is often left out of artistic discussions of his work.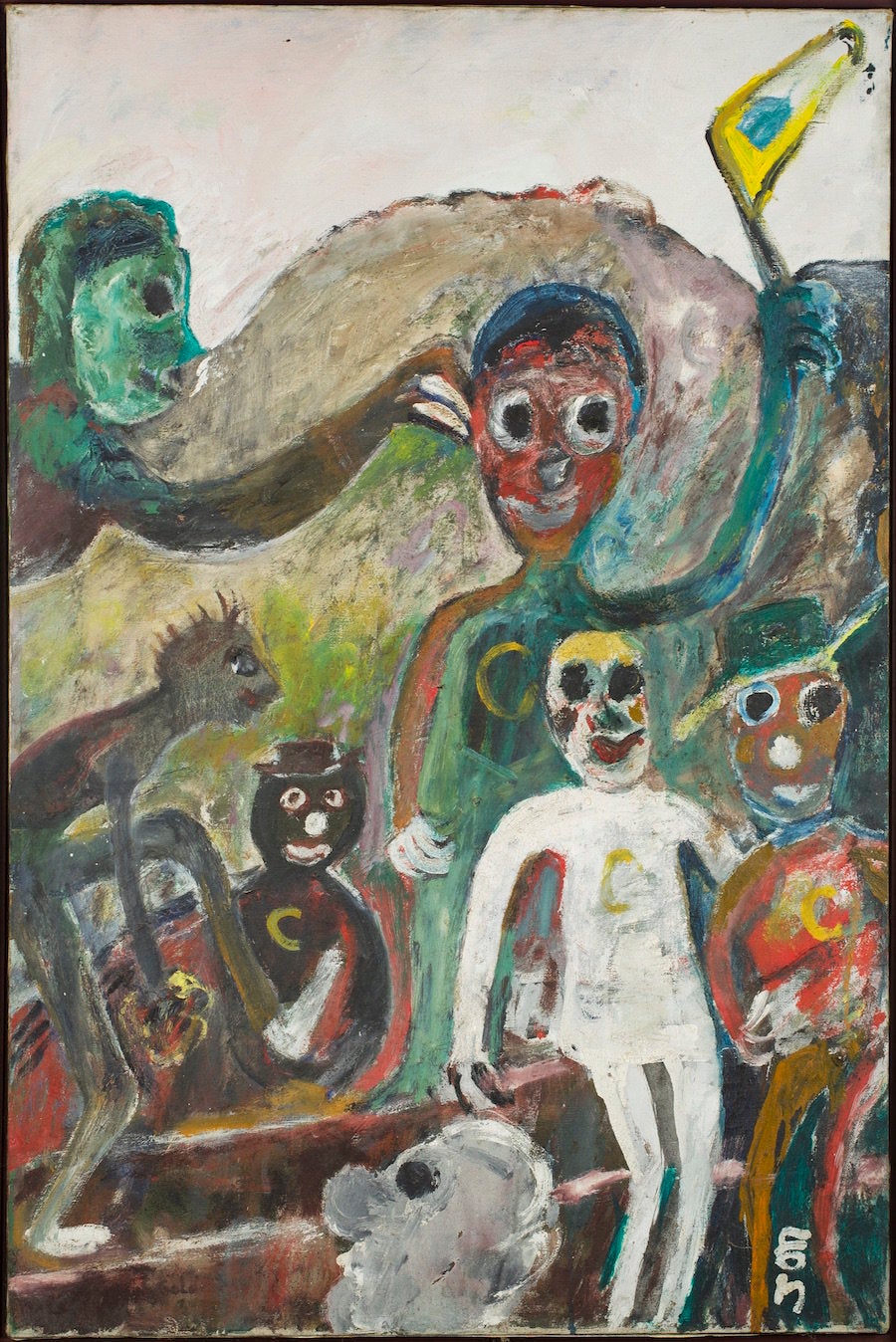 Although he didn't begin painting until middle age, Serl was wildly prolific, creating approximately 1,200 works in his lifetime. He painted up until the day he died, Morris said.
Since his passing, Serl's work has been exhibited at museums including the American Visionary Art Museum and the Philadelphia Museum of Art, as part of an outsider art exhibition. Because of Serl's physical and emotional distance from the institutional art world, and the trauma he experienced in the earlier phases of his life, it's tempting to characterize Serl as an outsider artist. Serl himself, however, hated the term, and asked Morris to stop people from using it in his presence.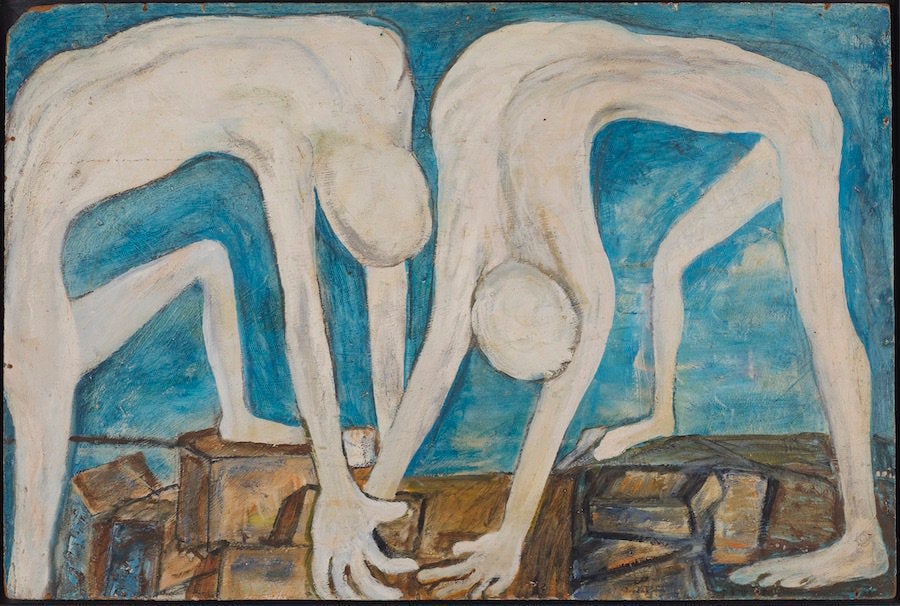 In a blog written in tribute to Serl's life and work, Morris mulled over the responsibility we all encounter when coming face to face with an artist like Serl, whose pain was so effusively translated into paint. "Hardships are the things purveyors of outsider culture love to dwell on, but very little of this would be of concern to us if he were not the artist that he was," Morris wrote. "We must never forget that the paintings are the reasons we are interested in the life, and not the other way around."
Serl is yet another example of an artist whose work was influenced by the events of his life. In his case, the feverishness of carnival life, an abusive father, poverty, repressed sexuality, all manifest themselves in troupes of ghostly, painted figures hovering between memory and the circus of imagination. But it's the paintings themselves, with their gem-like colors muddled and piercing, lines jagged as the desert landscape and smooth as liquid, as though the figures themselves are melting in the hot, California sun.